Game Description:
Play new game Unicorn Cake Cooking for free online at our website Gamesmylittlepony.com. As other games on our website, you can play this game in your browser, your mobile and enjoy it for free as well. Here you will get an opportunity to know how to make the Unicorn cake? You will use your mouse and follow the instruction in game and click all the necessary items. So you have to do your best to cook the cake accordingly to the recipe which will take you to step by step in cooking the cake, it won't be difficult if you concentrate on the ingredients, tools, how to stir and so on.
This is a cooking game and decorating game. You will learn the way to make the Unicorn cake and then you will decorate it. If you can make the Unicorn cake you can show your making cake abilities in the important occasion such as birthday, new year, Merry Christmas,...You can invite your friends, your family and your relatives,..This game is designed for everyone, especially the ladies and girls because they prepare always the meal for their family. If you make cakes for your friends, your relatives and your family, the party will be more meaningful.
About Unicorn Cake Cooking

You know that making cake is a difficult task and requires dexterity from the hands. To play this game, the players can practice the perseverance. It is very useful in the work days as well. If the children play this game, they can learn the necessary personalities in their evolution. Not easy but not too difficult, you will concentrate your mind, your passion and your time to enjoy this game.
Task In Game

Now, you start to play this game by following the instructions in game. In the first game, you must click on the button cooking. You use scissors to cut flour and sugar. packets. Then you will put all the necessary ingredients. After that, you add milk, Vanilla powder, salt and eggs. You will mix them together in some seconds time. You will put more some other spices and mix them together again. You put the mixture you just made in the microwave. After some time, you will take the cake out of the microwave and start decorating. You will use all the decorating items to make a nice cake for this game.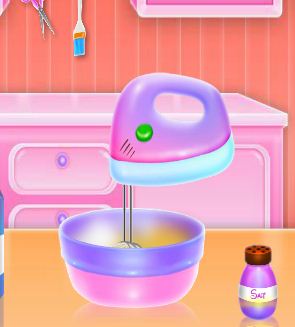 Time In Game

In this game, no time is specified. But you try to finish task as soon as possible to get the high score. By playing this game, you have more experience to cook the Unicorn cake. You can make it at the week end or in the important occasion. Your family, friends and relatives are surely happy with this gift. Have fun!
How to play:
Tips and Tricks: